The Secretary General of Infrastructures of MITMA visits the section Níjar-Río Andarax of the HSL Murcia-Almería executed by Convensa
25/04/2022
The Secretary General of Infrastructures of MITMA visits the section Níjar-Río Andarax of the HSL Murcia-Almería executed by Convensa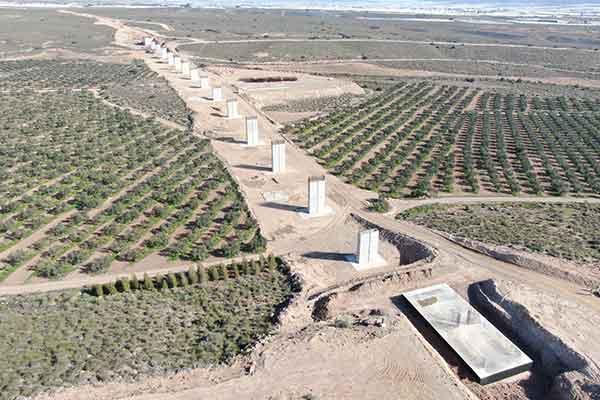 The Secretary General of Infrastructures of the Ministry of Transport, Mobility and Urban Agenda (MITMA), the President of ADIF, the General Director of ADIF AV, and the Government delegate in Andalusia, among other authorities, have visited the works of the Níjar-Río section Andarax of the Murcia-Almería HSL executed by Convensa.
The visit took place during the works for the execution of the foundations of the Higueruelas viaduct. For his part, the General Director of ADIF AV explained the status of the three sections that are underway in the province of Almería and specified the evolution of the Níjar-Río Andarax section executed by Convensa.
This 25.5 km section and with an investment of more than 106 million euros, runs through the municipalities of Níjar, Viator, Huércal de Almería and Almería. Its layout includes 16 viaducts with a total length of 5,050 metres, the most representative being the 1,414-metre viaduct over the Andarax River. Likewise, an 878-meter tunnel will be built under the Viator polygon, in addition to 4 overpasses and 9 underpasses that replace the existing road network, allowing full transverse permeability along the route.
In addition to this section, Convensa, the company specializing in railway works of the FCC Group, is executing the Totana-Lorca section of the AV Murcia-Almería line with a budget of more than 60 million euros.