28/04/2023
FCC Construcción and Convensa awarded at the San Telmo awards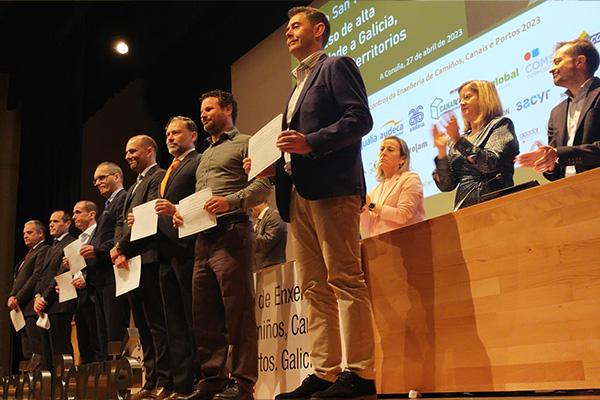 FCC Construcción and Convensa awarded in the San Telmo prizes of the Demarcation of Galicia of the College of Civil Engineers. The event, held at the Barrié Foundation in A Coruña, recognized the work carried out in the execution works of the Pedralba-Ourense section of the Galician High-Speed Line.
Specifically, they were awarded:
FCC Construcción and Convensa were awarded for their participation in the construction of the infrastructure corresponding to the Bolaños tunnels, Vilariño-Campobecerros section, more than 6 km long and the only tunnels on the line executed with a tunnel boring machine. In these tunnels, a two-component mortar was used for the first time in Spain, which makes it possible to give greater stability to the ground through which the tunnel boring machine circulates, as well as to guarantee better waterproofing results in the excavated tunnel.
Convensa was awarded for the execution of the track assembly in the Campobecerros-Taboadela section of more than 40 km in length and where the company specialized in railway works of the FCC Group showed the quality of its work, executing for the first time in the Spanish High Speed sections of track in prefabricated plate in the viaducts of the section as well as in the transitions between viaduct and tunnel.
With these actions, the construction area of the FCC Group continues to participate in the structuring of the country's mobility, bringing people closer together and uniting the territory with sustainable infrastructures.