26/11/2019
FCC Construcción present at the authorities visit to the "Variante Pajares" railway project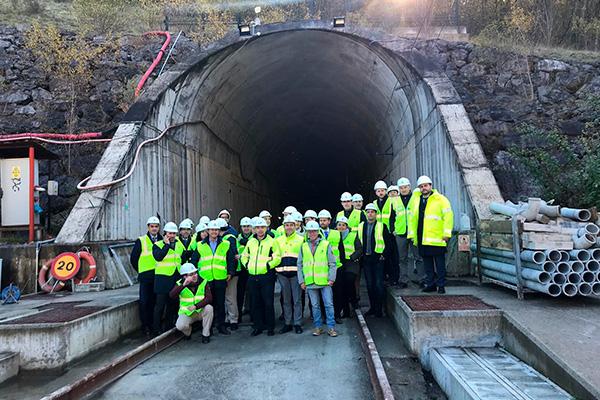 Coinciding with the Seminar on construction and conservation of Tunnels in Asturias organized in Oviedo by Ministry Infrastructures, ADIF and Spanish Association of Tunnels and Underground Works (AETOS), different visits have been held in the "Variante Pajares"that FCC Construcción has been carrying out through various contracts since 2004.
On November 20, representatives of the Principality of Asturias through its Vice President and Infrastructure Advisor, Government Delegate and General Director of Infrastructure, accompanied by the president of ADIF and various representatives of the railway infrastructure manager, visited the assembly works of track between La Robla and Campomanes that FCC Construcción is currently developing.
During the visit it was possible to observe the complex construction system developed by the FCC Construcción and Convensa technicians who have allowed the execution of the west tube of the Pajares tunnel. Attendees observed the evolution of the assembly and concreting of the road in the Asturian mouth of the tunnel on the same day that these works were completed. The Pajares tunnel has a length of 24 kilometers and is a double tube infrastructure, where FCC Construcción has participated in the execution of the infrastructure, waterproofing and drainage of the infrastructure and is executing the assembly and concreting of the road.
On the second day, those attending the seminar visited the same area together with the rest of the AETOS organization, being able to see the beginning of the assembly of the road and the previous work of the concreting of the next tunnel, Pontones, with a length of 6,000 meters
FCC Construcción and Convensa have participated in the different construction phases of this railway variant that will allow the arrival of High Speed to Asturias from the center of country and which means a milestone in international engineering due to its high complexity.