FCC Construcción, Convensa and RRC initiate the rail modernization contract between Torres Vedras and Caldas da Rainha (Portugal)
01/07/2022
FCC Construcción, Convensa and RRC initiate the rail modernization contract between Torres Vedras and Caldas da Rainha (Portugal)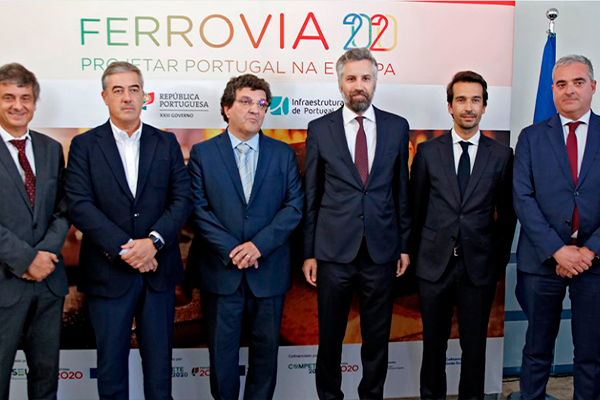 FCC Construcción, Convensa and RRC have started the contract for the modernization of the railway line on the West Line between Torres Vedras and Caldas da Rainha (Portugal).
The signing ceremony of the consignment document, which marks the beginning of the work, was attended by the Minister of Infrastructure and Housing, Pedro Nuno Santos, and the Vice-President of Infraestruturas de Portugal, Carlos Fernandes.
The project aims to reinforce the capacity and efficiency of the rail transport service, improving availability levels and reducing travel times. The enable of the Oeste Line, up to Caldas da Rainha, for the use of electric traction rolling stock, modern signalling and telecommunications systems and the optimization of the track layout, will make it possible to reduce travel time between Caldas da Rainha – Lisbon and Torres Vedras – Lisbon in about 30 minutes.
Torres Vedras– Caldas da Rainha Contract
The contract to modernize the Oeste Line between Torres Vedras and Caldas da Rainha consists of the full electrification of the section and modernization of the track over a 44-kilometre extension, also involving the execution of the following works:
Punctual renovation and rectification of the track layout;
Construction of a new route, a two-kilometre variant of the existing track, in the parishes of Campelos and Outeiro da Cabeça, municipality of Torres Vedras, with the aim of enhancing the circulation of conventional trains at a speed of 140km/h;
Rehabilitation of buildings and accessibility conditions in five stations (Torres Vedras, Ramalhal, Outeiro, Bombarral and Caldas da Rainha) and four stops (Paúl, São Mamede, Dagorda and Óbidos), with the creation of access for people with reduced mobility and raising the platforms in order to facilitate the entry and exit of the train;
Construction of a new line at the São Mamede stop and its conversion into a railway station;
Reinforcement of Road and Rail Safety with the elimination of four level crossings and the automation of the others;
Improvement of road crossing conditions through the construction of four uneven railway crossings;
Support works for the Installation of Electronic Signalling, Telecommunications and GSM-R (Global System for Mobile Communications Railway), which guarantees the strengthening of safety conditions and railway circulation