The General Director of ADIF and the President of the Port of Valencia have visited the "Adaptation of the Sagunto-Teruel-Zaragoza Line" works carried out by Convensa
30/11/2021
The General Director of ADIF and the President of the Port of Valencia have visited the "Adaptation of the Sagunto-Teruel-Zaragoza Line" works carried out by Convensa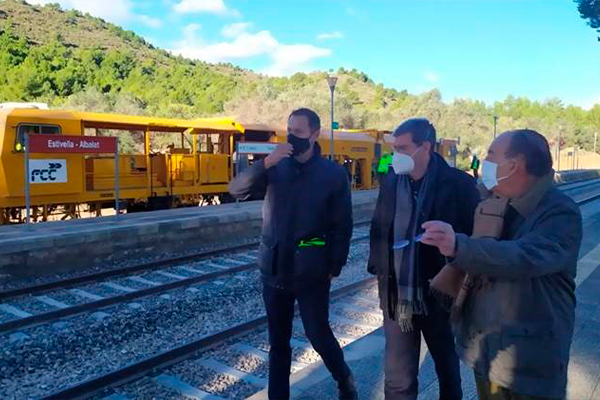 The General Director of ADIF and the President of the Valencia Port Authority have visited the Estivella sidings in the province of Valencia and La Puebla de Valverde in Teruel. The improvement of this line is strategic for the Spanish economic activity, since it will facilitate the attraction of freight traffic from the north of Spain to its exit to the east from the Port of Valencia.
The works to improve the Zaragoza-Teruel-Sagunt-Valencia railway line are progressing at a good pace, a strategic infrastructure to link the Cantabrian corridor with the Mediterranean. Convensa executes four 750-meter-long sidings in stations located in Aragon and the Valencian Community. Specifically, these stations are located in Cariñena, Ferreruela, Teruel and Estivella.
Once all the actions have been completed, the line will have greater capacity, travel times will be reduced, the competitiveness of freight services will improve, traffic speed will be increased, efficiency will be increased, and electric traction trains will be able to be incorporated, Better reliability and comfort parameters will be offered, the possibility of incidents will be reduced and the infrastructure will be fully interoperable with the Cantabrian and Mediterranean corridors.