26/07/2022
Convensa wins the execution contract for the railway platform as it passes through Totana (Murcia)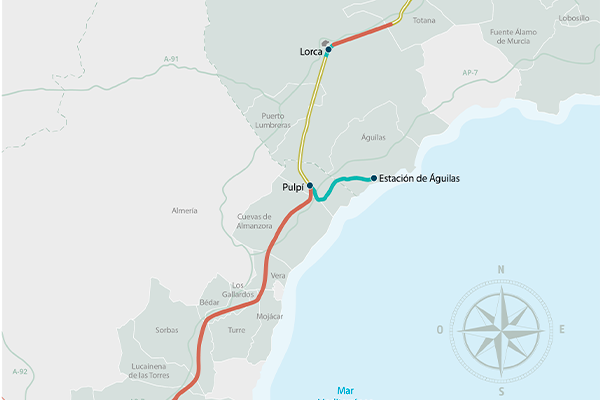 Convensa has won the execution contract for the railway platform passing through Totana, on the Murcia-Almeria line, belonging to the Mediterranean Corridor.
The contract, with a term of execution of 30 months and a budget of 184 million euros, contemplates the execution of the works in a section of 9.9 km, in which 6 viaducts, 4 overpasses and 2 underpasses will be built and 56 drainage works.
Thanks to this project, a new impetus is given to the Mediterranean Corridor, with actions that promote and advance in the construction of this strategic infrastructure.
The awarded works will be carried out in a 9.9 km section that runs entirely through the municipality of Totana. The construction of a new intermodal station is planned to replace the current one. The new layout places the Totana station at kilometer point 227/690, about 500 meters from the existing one. The projected platform corresponds to a double track layout, suitable for mixed traffic (passengers and goods) and prepared for speeds of more than 300 km/h.
The section, given its length and its development through the peri-urban area of the town of Totana, entails numerous effects on service, supply, sanitation and irrigation facilities.
The new HSL is part of the Mediterranean Corridor, a critical infrastructure for the region and the country, aligned with the European recovery strategy that has directed its resources to projects that will promote the green and digital economy and contribute to the development of the industrial and productive fabric of the regions.
All these actions contribute to the achievement of different Sustainable Development Goals (SDGs), such as number 9, which has among its goals the development of reliable, sustainable and quality infrastructures, and 11, which seeks to promote accessible transport and sure.
Convensa is currently executing two sections corresponding to the Nijar-Rio Andarax and Totana-Lorca Lines which, together with the Sorbas and Alhama-Totana tunnels built in the first phase, make the FCC Group a main player in the development of the Mediterranean Corridor.