16/11/2020
Convensa completes the track renovation works in Beira Baixa (Portugal)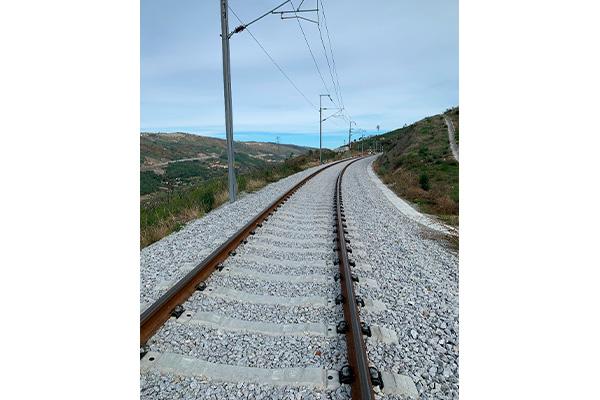 Contratas y Ventas SAU, Convensa has successfully accomplished the renewal trackworks included in the rehabilitation works that a consortium, formed by Conduril and Ramalho Rosa Cobetar, the FCC Construcción Portuguese branch, is executing for IP, Infraestruturas de Portugal, the Portuguese state owned railway administrator.
The stretch, 46 kilometers long, is placed between Covilhã and Guarda railway stations in the Beira Baixa line. The line is being renewed to allow both, freights and passenger, trains passing through the Iberian gauge railroad.
The path is divided in three different sections. The central one, 10 km in length, already rehabilitated and two extreme sections, each of 13 and 23 km in length respectively that are the subject of these works of track renewal.
In addition and next to Guarda city a new rail junction has been executed to link Beira Baixa and Beira Alta lines. Other new rail connection has been constructed also to connect the main line with the tracks allocated in the East side of Guarda station.
The main scope of the works executed by Convensa includes:
- Ballast bed supply and installation: 96.000 m³
- Supply and installation of 60.000 concrete sleepers
- Supply and installation of more than 4.000 tons of UIC 60 E1 rail
- More than 600 units of thermite welding (TW).
- 3.550 m of check rail installed.
- 27 switches and turnouts mounted
- 2 expansion track devices mounted.
- Refurbishment of 12 grade crossing.
- Rail tracks ultrasound auscultation
- Full grinding of the new tracks installed.
With the execution of these last renewal works and the new project awarded in the Douro railway line, Pinhão- Tua rehabilitation stretch, to be executed in the next months, Convensa stands out as one of the reference companies in the Portuguese railway market and it is ready to celebrate its 50th birthday in 2.021.