Convensa completes the emergency works of waterproofing of the southern tunnel of Pio XII, in Madrid
05/10/2018
Convensa completes the emergency works of waterproofing of the southern tunnel of Pio XII, in Madrid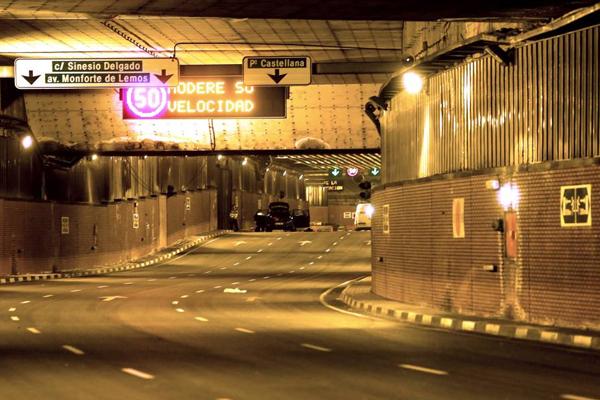 Convensa has completed the emergency works for the waterproofing of the southern tunnel of Pio XII in the district of Chamartín in Madrid. This tunnel was opened to traffic on Monday, October 1st, making possible the improvement of traffic on the east-west axis of Madrid. Six months ago it had to be closed to traffic due to water leaks that were produced from the beach of roads located in Chamartín station.
The tunnel crosses below the road of Chamartin station and was executed in the 60s to communicate the streets Pio XII with Sinesio Delgado, its service being operated by the Madrid City Council. The work developed by CONVENSA has had two fronts of action. On the one hand, work was carried out from inside the tunnel that consisted in the repair of the steel structure that forms the slab of the tunnel by sandblasting to eliminate the oxide formed and the subsequent application of a double protection against corrosion and a final paint . The interior works culminated with the placement of the fireproof panels that had been previously disassembled to be able to act on the steel structure.
On the other hand, the exterior works have been based on a sectorized waterproofing of the Chamartin station tracks. This waterproofing was carried out according to the state of each road and included the demolition of the current roads to apply a waterproofing based on a flexible cementitious mortar with an additional waterproofing of the contact joints between the slab and the different walls and subsequent assembly of a new way, until a repair and superficial continuity to kiss of a polyurea projected in hot with a protective finish for the anti-slip UV rays. The treatments on the roads were completed with specific actions of the downspouts of the canopies giving out the waters and avoiding the overflow of the canopies themselves.
In addition to the work on the tracks, action has been taken in the parking area of the Chamartín station that affects the tunnel, lifting the existing agglomerate and concrete to waterproof it with a flexible cementitious mortar and agglomerating it again.
All the works have been concentrated in the summer months in order to fulfill the commitment to finalize them on the planned date, thus giving an effective and immediate solution to the problem of cutting traffic to the main exit and entrance to the neighborhood. Chamartín.